Speaking and Presentations
Creative Senior Solutions President Dean Solden is a unique individual, in that he is both a professional senior living owner/operator/developer/thought leader and a professional musician and entertainer, having performed around the world. He has combined these two passions to create a most unique musical keynote and motivational speaker presentation program. He can help motivate your company or organization to propel yourself in the new and coming world we live in. Through his dynamic musical and educational program entitled: Re-Imagine Senior Living, Mr. Solden blends his thirty-year senior living career in senior living with his life-long career as a professional musician, composer, and producer to create not just a motivation speech which will get you thinking in ways you haven't before, but will thoroughly entertain your audience as well.
Modeling the use of music and the arts in senior living with virtuosic jazz and classical piano playing, the audiences will see in real time how the basic elements of music – rhythm, harmony and melody – are the building blocks and perfect metaphors for being successful in business and in life. Mr. Solden will discuss the unique memory care choir he created and directed, as well as the nationally recognized hip-hop dementia music video he produced, as an example of how to not only engage and connect with residents and families, but how to increase your bottom line as well.
With our world changing at an unprecedented rate, with technology, the Covid-19 pandemic, and with the Baby Boomers coming into the market, businesses will have to change to stay relevant. In Re -Imagine Senior Living , Mr. Solden will provide concrete solutions, such as:
· How to create Vibrant Lives in your communities
· How to understand the future of senior living by understanding the past
· How to better recruit and retain people who work in your communities
· Understand Assisted Living 3.0
· Discussing how buildings could now look and how they will look in the future;
· Introducing a new way of caring for people through the Carefriend Approach@
· Discussing Quality of Life vs Quality of Care
· Sharing Innovative Marketing Techniques
· Discussing New Senior Living Models in the future
and much more…..
For business to change, minds will have to change. Through this innovative musical/informational presentation, Dean Solden will help you and your audience begin to…
Re-Imagine Senior Living.
Michigan Center for Assisted Living
National Center for Assisted Living
Vermont Health Care Association
Senior Housing Forum, New York City
Housing Bureau for Seniors, Washtenaw County
Health Care Association of Michigan
American Health Care Association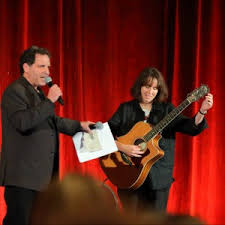 WMMT CBS3 Television
WGVU TV, Kalamazoo
WTOL TV – Toledo, Ohio
ABC12, Flint, Michigan
Senior Music Video's and Documentaries
Don't Define Me, Just Remind Me
If you don't get it, you might spread it
The Spirit of Caring – A Memory Care Choir
For more music and video presentations go to DeanSoldenMusic.com